NIGHT RUN SERIES 2017/18
10km & 5km
The Track, Meydan, Dubai, UAE
7.30pm Start
Following the success of the inaugural 3 races, Super Sports is excited to bring back the NIGHT RUN SERIES  for this coming season. The run will take runners over the iconic illuminated Meydan Royal Bridge, will offer social and experienced runners unbelievable nighttime skyline views with a challenging "up-and-down-hill" course. Emphasis will be placed on the social aspect of the race with all runners gathering for a post-race drink and meal where they can share their experiences of the run and hopefully make new friends! Discount on Group Entries. Lots of parking!
Night Run Hashtags:
#NightRunDubai #SuperSportsEvents #TheTrack #MeydanGolf #Running #DubaiFitness #DubaiSportsCouncil

WATCH VIDEO CLIPS OF THE RACE:

PUMA #IGNITEDXB Night Run Race 1
PUMA #IGNITEDXB Night Run Race 2
PUMA #IGNITEDXB Night Run Race 3
RACE INFORMATION & BRIEFING – CLICK HERE
COURSE MAP – CLICK HERE
ENTER HERE
RESULTS HERE
DATES:
TBC
Night Run Entries Close:
Sunday midnight before each race night
Night Run Venue:
THE TRACK, Golf Clubhouse, Meydan, Dubai, UAE
Directions – click here
Night Run Entry Fee:
AED175/-
Any participants cancelling their participation after the closing date or who is a "no-show" on the day of the race will not receive a refund.
In the unfortunate event of the race having to have to be cancelled due to weather or venue issues, the credit / refund policy of online entries through online entry providers will apply or you can have your entry carried over to any other Super Sports organised race.
Enter your Club, Company or Team – more than 10 runners get a group discount. Contact events@supersportsuae.com for more information.

Entry fee includes:
Post Race Food and Beverages
T-shirt
Finishers Medal
Electronic Chip Timing
Downloadable Certificate
Live Results through Facebook & Website
Night Run Race Program:
NO LATE ENTRIES WILL BE ACCEPTED
BE CHECKED IN AT LEAST 30 MIN PRIOR TO THE START OF YOUR RACE
18h30 – Race Check In
19h30 – 10km Race Starts
19h35 – 5km Race Starts
21h00 – All Races Finish
21h00 – Prize Giving / Lucky Draw / F&B by Qube Sports Bar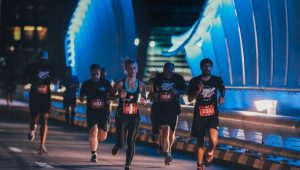 Night Run Age Groups & Categories:
(Age Groups are calculated as per your age on 01 October 2017)
10km – male and female – Under 25 years, 25-29, 30-34, 35-39, 40-44, 45-49, 50+
5km – male and female –  Under 25 years, 25-29, 30-34, 35-39, 40-44, 45-49, 50+
Night Run Rules:
You will have 90 minutes to complete either of the 2 races on offer
Keep to the left hand side of the road at all time – run in a clockwise direction.
10km = 2 laps of the course.
5km = 1 lap of the course.
You must have your run number visible on the front of your body or race clothing and keep it visible at all times when on the run course.
Your upper body must be covered at all times on the run portion of the race.
Shoes are compulsory
No form of locomotion other than running, walking or crawling is allowed.

WATER STATIONS
1 station on the course as well as at the finish line.
RACE NUMBERS & TIMING CHIPS
To be collected on the night of the race at Race Check In.
END-OF-RACE PROCEDURES
When crossing the finish line, keep moving through the finish schute.
Return your race number and timing chip to designated marshal or collection box.
Prize Giving will follow as soon as possible once all athletes are finished.
PRIZE GIVING:
The prize presentation will take place as soon as possible after the final event.
The final results will be posted online on the Results page of this website, after the event has finished and all the results have been checked.
As soon as we upload the results we will post on the Super Sports Events Facebook Page and Twitter account (@SprSportsEvents) with a link to the Results page.
Finishers medals will be awarded to all who finish each race as they cross the finish line.
Medals for 1st, 2nd and 3rd places Overall and also per Age Group will be awarded per race.
You cannot win an overall prize and your age group prize.
RACE DIRECTOR
Warren van der Merwe
FOR ALL INFORMATION AND ENQUIRIES:
Super Sports Events
Email: events@supersportsuae.com
Phone: +971 50 164 6967
Website: www.supersportsuae.com